You better start picking out your carpet color
The sea of different loan options can seem overwhelming, but we have good news for you. It's easier than you think. We're here to simplify the process for you, and your new home will be in your hands before you know it. We just have to find you the right loan.
Below you will find some of our most popular home loans. Each one has its own page with helpful information on it to get you started. Once you've gotten some preliminary information, give us a call. You're also welcome to call us directly for a complimentary consultation and we can go through them together.
Conventional loans are the most common, and most frequently used loan programs. Conventional loans are not insured by a federal agency, such as the Federal Housing Administration (FHA), the U.S. Department of Veteran Affairs (VA), or the U.S. Department of Agriculture (USDA). Conventional loan options come in many varieties, fixed rate, adjustable rate mortgage (ARM), conforming and non-conforming, jumbo etc.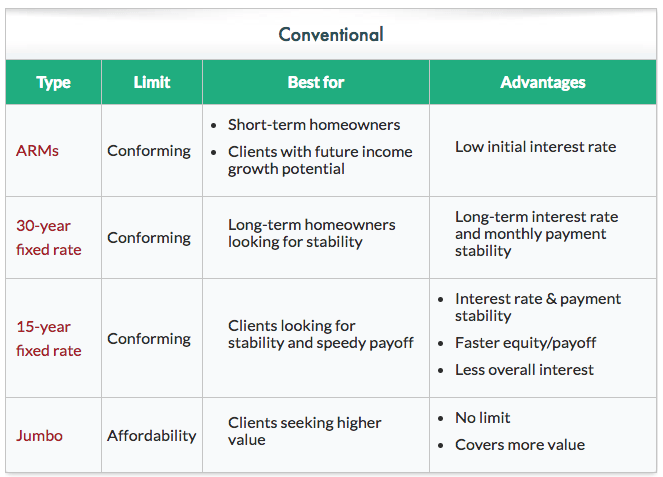 The 30-Year Fixed Rate Home Loan:
The 30-year fixed rate home loan is the gold standard of the industry. It gives homeowners long term stability with one predictable monthly payment amount over 30 years.
The fixed interest rate guarantees the monthly payment over the life of the loan, free of the fear of rising interest rates. These are the most popular loans in the industry and appeal to homeowners who expect to settle down in one house for a long period of time. The Conventional 95% program requires a minimum credit score. Unlike a FHA loan, the Conventional 95% program does not require upfront mortgage insurance premiums. It offers options to eliminate the monthly mortgage premium altogether.
Your loan officer can help you obtain your credit score, which will be based on the middle of three credit scores as reported by the major credit bureaus.
The 15-Year Fixed Rate Home Loan:
The 15-year fixed rate home loan, provides the same stability as the 30-year fixed rate loan, however with higher monthly payment amortized over 15 years instead of 30 years. While the 15-year mortgage has a higher monthly payment, it builds equity faster, and you pay less interest over the entire term of the loan.
Adjustable-Rate Mortgage:
An adjustable-rate mortgage (ARM) gives borrowers the advantage of a low introductory rate for the first few years of the home loan. ARMs can be a good option for short-term homeowners or those who can reasonably expect to have a higher income over time.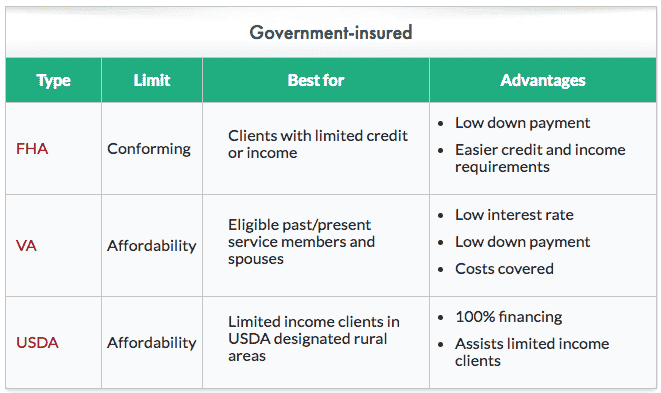 Did loan limits varies in your county?
To check your area for 2019 maximum loan limits, visit hud.com
Expand your territory with the USDA Guarantee Rural Housing Program offered by PrimeLending. This is a great program if you're looking to finance a new home.
USDA Purchase Loan Benefits:
30-year fixed rate
Self-employed income accepted
No maximum loan amount
No reserve requirements
Minimum FICO score of 640; 620 with restrictions for USDA loans
100% financing/no down payment up to the appraised value of the property*
*Eligible properties must be located in a rural area as defined by USDA Rural Development and cannot produce income.
A Loan Worth Saluting
The Veteran's Administration loan, or VA loan, is a terrific home mortgage for qualified veterans with benefits that outweigh those of conventional or FHA mortgages. Whether you are active duty military, have retired from service or have an existing VA loan, we can help you get the most from your benefit. More than any other home mortgage, the VA loan includes guidelines to protect the veteran or service person's rights and pocket book.
VA Loan Benefits:
1.5 million max loan amount
100% financing
No mortgage insurance premiums
Option to keep current VA home loan and buy second home without selling or refinancing first property
Eligible Persons
Active duty, discharged and retired service persons from any of the following areas are eligible if you meet basic qualifying criteria for a VA home loan:
Army
Navy
Air Force
Marines
Coast Guard
National Guard
Down Payment Assistance**
Grant Programs:
GSFA Platinum Program
This program offers up to 5% of the loan amount. It includes Conventional, FHA, USDA and VA mortgages and does not require you to be a first-time homebuyer. This program is good for properties in California only.
Click here to learn more about the GSFA Platinum Program.
**Certain restrictions apply. Not available in all areas. Please contact your PrimeLending loan officer for more details.
MCC Mortgage Credit***
The MCC credit allows individuals to claim a portion of their mortgage interest as tax credit and can also help with qualifying for the actual mortgage loan. There are two types of mortgage credit certificates (MCC) available for those purchasing a property in California. The MCC tax credit for both programs is 20%.
***PrimeLending is not authorized to give tax advice. Please consult your tax adviser for tax advice for your specific situation.
USDA Refinance Loans
Expand Your Territory
Expand your territory with the USDA Guarantee Rural Housing Program offered by PrimeLending. This is a great program if you're looking to refinance your current home. To cultivate the best loan possible based on today's low interest rates, now may be the perfect time to refinance your current USDA loan with the refinance program.
USDA Refinance Loan Requirements:
Be a current Section 502 guaranteed loan borrower
Meet the applicable adjusted income eligibility limit
Reside in an eligible rural area, or an area that was eligible at the time of original loan closing
Have made timely mortgage payments for the previous 12 months at the time of the loan application
FHA Streamline Refinance Loan
What are you going to do with the extra money?
The FHA Streamline Refinance Program is designed to lower the monthly principal and interest payments on a current FHA-insured mortgage.
Reduce your interest rate
Take advantage of recent government action to lower interest rates. This will save you thousands of dollars over the life of your loan. You can use the savings to lower your monthly payments, reduce the number of payments, and have more money for other things you've been waiting to purchase or save towards.
No appraisal
Once qualified, very little is required to convert your current FHA loan into one with a lower rate. We only need to verify you are currently employed, and are in good standing with your current FHA mortgage.
FHA Streamline Program Details:
Primary residence
Second homes
Investment properties allowed
One to four units
Minimum credit score: 640; 620 with restrictions
With loan officer and lending team support – such as in-house processing, underwriting and closing – we offer fast turn around times, and can usually close loans in less than 40 days! 2
VA Streamline Refinance Loan
Watch your budget grow
If your home is currently financed by a VA home loan, refinancing with an IRRRL can reduce your monthly payments, giving you more flexibility in your budget.
VA Streamline Refinance Loan benefits:
Appraisal may not be needed
Income verification not required
No assets required
Lower your current fixed rate
Convert your adjustable rate mortgage to a fixed rate
No prepayment penalties
Turn the old into new
It's exciting to get a new home, but even more exciting to make it exactly the way you want. With our wide selection of renovation loans, you can finally get started on the renovations you have had in mind, whether it's an open kitchen or a more energy-efficient household. Our renovation loans offer options for first homes, investment or second properties.
With loan officer and lending team support – such as in-house processing, underwriting and closing – we offer fast turn around times. On average, PrimeLending can close a loan in fewer than 40 days. 2 You're closer to your goal than you think. Browse among the different renovation loans below to see which fits your situation the best.
Homestyle Loan
Raise the roof on your home
The HomeStyle® renovation loan is a great option for renovations that add value to your property. It's a simple loan with flexible use that fits a lot of different situations. They apply to first homes, investment and second properties.
Highlights Of The HomeStyle® Renovation Loan:
An affordable option to renovate or improve a home
Funds are for repairs/renovations that are permanent to the property and add value
Flexible use, for purchase and refinance
Simplified documentation
Primary, secondary home and investment property allowed
Max renovation costs limited to 75% of the lesser of the purchase price plus renovation costs or the "as completed" appraised value of the property.
*Homestyle® is registered trademark of Fannie Mae.
Escrow Holdback
How about rolling home repairs into your mortgage?
With the USDA Escrow Holdback home loan program, USDA homebuyers can conveniently finance and make repairs without paying fees twice for two separate loans. You can also avoid the higher interest rates associated with short-term lending. Using this program, a USDA buyer may finance the cost of repairs into their mortgage and complete the reparis after the close on their new USDA mortgage.
USDA Escrow Holdback Program Financing Features:
100% financing for a purchase or refinancing in USDA designated rural area*
102% financing for first-time and repeating homebuyers
30-year fixed rate
Self-employed income accepted
No mortgage insurance required
No maximum loan amount
No reserve requirements
Fast Closings! 2
Additional Features:
Up to 120 days completion time
Loan WILL NOT have to be locked thru completion. Only needs to be locked thru Loan Funding date.
Use for USDA eligible properties in foreclosure and short sales needing repair
Allows for a maximum of up to 2 contractors. (contractor(s) cannot be borrower, family member, realtor/loan officer related to the transaction or borrowers employer) be
Eligible repairs are any/all repairs listed by the USDA appraiser and/or underwriter as a violation of USDA's minimum property standards.
203K Loan
Buy and upgrade at the same time
Guess what? You can now buy and renovate your home with one loan and one monthly payment. With the FHA 203K renovation loan, you can purchase or refinance a home and also include additional money for repairs or renovations. Take a look at the loan advantages below:
203K Full Program Advantages:
Repair/renovation costs can be rolled into the loan
Major items are allowed (i.e. foundation)
Low down payment (3.5%) and seller can pay up to 6% toward closing costs
Close before repair/renovation begins
Only one closing. Money disbursed on a draw basis after closing, as construction is completed
Loan amount can go up to 110% of the "after-improved value" from the appraisal
Buyer can include optional renovations/upgrades
203K Streamline Program Advantages:
Same as advantages above in the full program with two exclusions: neither repair/renovation costs nor major items such as a property foundation can be included in the loan.
203k Advantages:
Repair foundation
Replace roof
Paint interior & exterior
Remodel kitchen/bath
Upgrade to central heat/air
Energy efficiency improvemnts
Landscaping/exterior repairs
New built-in appliances
Mold repairs or mold remediation
In accordance with Section 326 of the USA PATRIOT Act of 2001, PrimeLending NMLS: 13649 is required to obtain a copy of the documents used in identifying our new account customers. This notice is being provided to you for adequate notice given under this act.
PRIMELENDING A PLAINSCAPITAL COMPANY®, PRIMELENDING ®, HOME LOANS MADE SIMPLE®, DISCOVER YOUR BEST ®, NEIGHBORHOODEDGE®, LOANTELLIGENCESM and LOANPLICITY® are trademarks, service marks, or registered trademarks or service marks of Hilltop Holdings Inc., licensed to PrimeLending, a Plains Capital Company, for its use. You may not use, display or reproduce them without the prior written consent of Hilltop Holdings Inc. and PrimeLending. Further, you may not remove, obscure, or otherwise modify any copyright, trademark, confidentiality or other proprietary rights notices displayed on, embedded in, or otherwise appearing in any Content offered by, viewed on, or received through this site. All other trademarks identified and contained herein are the property of their respective owners and their use herein does not imply sponsorship or endorsement of their products or services.
This website is not intended to offer loan services for properties in New York.