Purchase Loans
You better start picking out your carpet color
The sea of different loan options can seem overwhelming, but we have good news for you. It's easier than you think. We're here to simplify the process for you, and your new home will be in your hands before you know it. We just have to find you the right loan.
Below you will find some of our most popular home loans. Each one has its own page with helpful information on it to get you started. Once you've gotten some preliminary information, give us a call. You're also welcome to call us directly for a complimentary consultation and we can go through them together.
Conventional Loans
Conventional loans are the most common, and most frequently used loan programs. Conventional loans are not insured by a federal agency, such as the Federal Housing Administration (FHA), the U.S. Department of Veteran Affairs (VA), or the U.S. Department of Agriculture (USDA). Conventional loan options come in many varieties, fixed rate, adjustable rate mortgage (ARM), conforming and non-conforming, jumbo etc.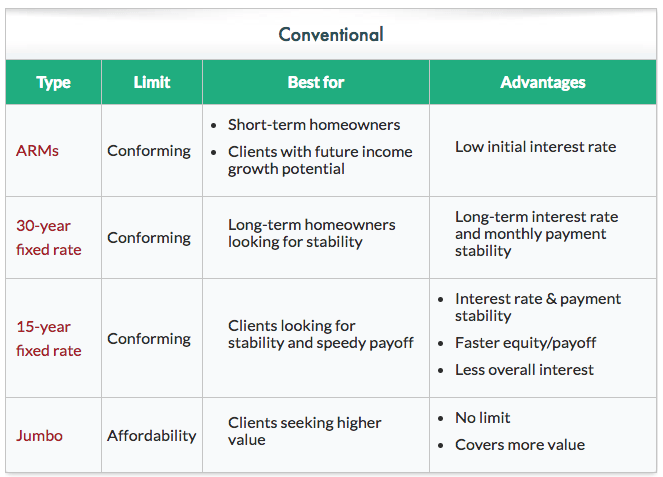 The 30-Year Fixed Rate Home Loan:
The 30-year fixed rate home loan is the gold standard of the industry. It gives homeowners long term stability with one predictable monthly payment amount over 30 years.
The fixed interest rate guarantees the monthly payment over the life of the loan, free of the fear of rising interest rates. These are the most popular loans in the industry and appeal to homeowners who expect to settle down in one house for a long period of time. The Conventional 95% program requires a minimum credit score. Unlike a FHA loan, the Conventional 95% program does not require upfront mortgage insurance premiums. It offers options to eliminate the monthly mortgage premium altogether.
Your loan officer can help you obtain your credit score, which will be based on the middle of three credit scores as reported by the major credit bureaus.
The 15-Year Fixed Rate Home Loan:
The 15-year fixed rate home loan, provides the same stability as the 30-year fixed rate loan, however with higher monthly payment amortized over 15 years instead of 30 years. While the 15-year mortgage has a higher monthly payment, it builds equity faster, and you pay less interest over the entire term of the loan.
Adjustable-Rate Mortgage:
An adjustable-rate mortgage (ARM) gives borrowers the advantage of a low introductory rate for the first few years of the home loan. ARMs can be a good option for short-term homeowners or those who can reasonably expect to have a higher income over time.
Government-Insured Loans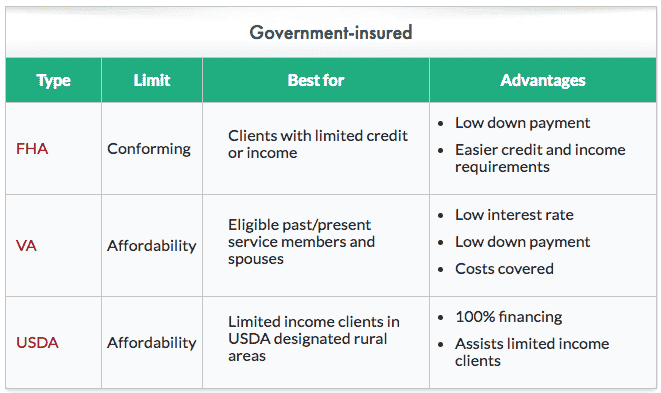 FHA Loan
Did loan limits varies in your county?
To check your area for 2019 maximum loan limits, visit hud.com
USDA Loan
Expand your territory with the USDA Guarantee Rural Housing Program offered by PrimeLending. This is a great program if you're looking to finance a new home.
USDA Purchase Loan Benefits:
30-year fixed rate
Self-employed income accepted
No maximum loan amount
No reserve requirements
Minimum FICO score of 640; 620 with restrictions for USDA loans
100% financing/no down payment up to the appraised value of the property*
*Eligible properties must be located in a rural area as defined by USDA Rural Development and cannot produce income.
VA Loan
A Loan Worth Saluting
The Veteran's Administration loan, or VA loan, is a terrific home mortgage for qualified veterans with benefits that outweigh those of conventional or FHA mortgages. Whether you are active duty military, have retired from service or have an existing VA loan, we can help you get the most from your benefit. More than any other home mortgage, the VA loan includes guidelines to protect the veteran or service person's rights and pocket book.
VA Loan Benefits:
1.5 million max loan amount
100% financing
No mortgage insurance premiums
Option to keep current VA home loan and buy second home without selling or refinancing first property
Eligible Persons
Active duty, discharged and retired service persons from any of the following areas are eligible if you meet basic qualifying criteria for a VA home loan:
Army
Navy
Air Force
Marines
Coast Guard
National Guard
Down Payment Assistance**
Grant Programs:
GSFA Platinum Program
This program offers up to 5% of the loan amount. It includes Conventional, FHA, USDA and VA mortgages and does not require you to be a first-time homebuyer. This program is good for properties in California only.
Click here to learn more about the GSFA Platinum Program.
**Certain restrictions apply. Not available in all areas. Please contact your PrimeLending loan officer for more details.
MCC Mortgage Credit***
The MCC credit allows individuals to claim a portion of their mortgage interest as tax credit and can also help with qualifying for the actual mortgage loan. There are two types of mortgage credit certificates (MCC) available for those purchasing a property in California. The MCC tax credit for both programs is 20%.
***PrimeLending is not authorized to give tax advice. Please consult your tax adviser for tax advice for your specific situation.